Amazing Fantastic Incredible: A Marvelous Memoir
Stan Lee Peter David Colleen Doran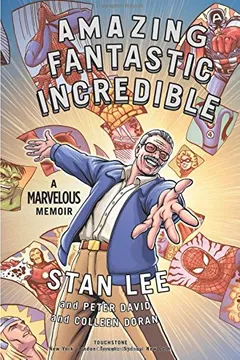 In this gorgeously illustrated, full-color graphic memoir, Stan Lee—comic book legend and cocreator of Spider-Man, the X-Men, the Avengers, the Incredible Hulk, and a legion of other Marvel superheroes—shares his iconic legacy and the story of how modern comics came to be.Stan Lee is a man who needs no introduction. The most legendary name in the history of comic books, he has been the leading creative force behind Marvel Comics, and has brought to life—and into the mainstream—some of the world's best-known heroes and most infamous villains throughout his career. His stories—filled with superheroes struggling with personal hang-ups and bad guys who possessed previously unseen psychological complexity—added wit and subtlety to a field previously locked into flat portrayals of good vs. evil. Lee put the human in superhuman and in doing so, created a new mythology for the twentieth century. In this beautifully illustrated graphic memoir—illustrated by celebrated artist Colleen Doran—Lee tells the story of his life with the same inimitable wit, energy, and offbeat spirit that he brought to the world of comics. Moving from his impoverished childhood in Manhattan to his early days writing comics, through his military training films during World War II and the rise of the Marvel empire in the 1960s to the current resurgence in movies, Amazing Fantastic Incredible documents the life of a man and the legacy of an industry and career. This funny, moving, and incredibly honest memoir is a must-have for collectors and fans of comic books and graphic novels of every age.
---
---
Detalhes do livro
Veja abaixo alguns detalhes e características deste livro. Aproveite para indicar ou não indicar a obra, ajudando assim toda a comunidade leitora.
| | |
| --- | --- |
| Idioma | Inglês |
| Editora | Touchstone Books |
| Lançamento | Mon Oct 05 2015 20:00:00 GMT-0400 (EDT) |
| ISBN-10 | 1501107720 |
| ISBN-13 | 9781501107726 |
| Formato | Capa dura |
| Páginas | 192 |
---
13
leitores acessaram a página de compra deste livro nos últimos dias.
Você também pode ser um deles, clicando no botão abaixo:
---
Resumo do Livro Amazing Fantastic Incredible: A Marvelous Memoir em PDF
Quer salvar o resumo deste livro em PDF? Simples, clique no botão abaixo e salve o arquivo em seu computador. Lembrando que você pode distribuir este arquivo livremente sempre que quiser.

Salvar
---
Assista as vídeo resenhas do nosso canal
Toda semana postamos novas vídeo-resenhas sobre livros interessantes. Clique nas imagens abaixo e conheça nosso trabalho. Aproveite para se inscrever em nosso canal!