Home: How Heaven and the New Earth Satisfy Our Deepest Longings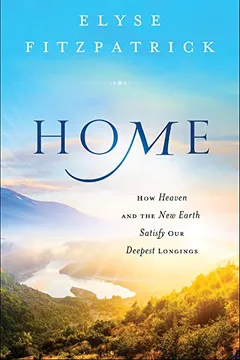 Heaven Is the Home You've Been Waiting For In this world of fear, trials, and loneliness we often feel adrift--like we're still searching for a place where we can truly make ourselves at home. There's a longing for something more, something that makes us feel like we belong, something that resonates perfectly with who we were made to be. This longing is no small thing to be brushed off and forgotten--it's a guidepost letting us know we were made for another world. Earth is not our home. But it's close. What we long for is the new earth, the place God has been preparing for our eternity with him. In "Home," Elyse Fitzpatrick explores heaven and the afterlife, demonstrating that our final destination is not some dull, featureless space in the clouds, but rather a perfected earth. It's a real, physical place that we'll explore with real bodies. A place of beauty and wonder and free of all death and decay. No need to chase a bucket list. On the new earth there will be no end of glorious sites and amazing activities, and we'll never run out of time to do them all. Includes questions for group discussion.
---
---
Detalhes do livro
Veja abaixo alguns detalhes e características deste livro. Aproveite para indicar ou não indicar a obra, ajudando assim toda a comunidade leitora.
| | |
| --- | --- |
| Idioma | Inglês |
| Editora | Bethany House Publishers |
| Lançamento | Mon Aug 01 2016 20:00:00 GMT-0400 (EDT) |
| ISBN-10 | 0764218026 |
| ISBN-13 | 9780764218026 |
| Formato | Capa comum |
| Páginas | 240 |
---
1
leitores acessaram a página de compra deste livro nos últimos dias.
Você também pode ser um deles, clicando no botão abaixo:
---
Resumo do Livro Home: How Heaven and the New Earth Satisfy Our Deepest Longings em PDF
Quer salvar o resumo deste livro em PDF? Simples, clique no botão abaixo e salve o arquivo em seu computador. Lembrando que você pode distribuir este arquivo livremente sempre que quiser.

Salvar
---
Assista as vídeo resenhas do nosso canal
Toda semana postamos novas vídeo-resenhas sobre livros interessantes. Clique nas imagens abaixo e conheça nosso trabalho. Aproveite para se inscrever em nosso canal!