Violent Ends
Shaun David Hutchinson Neal Shusterman Brendan Shusterman Beth Revis Cynthia Leitich Smith Courtney Summers Kendare Blake Delilah S Dawson Steve Brezenoff Tom Leveen Hannah Moskowitz Blythe Woolston Trish Doller Mindi Scott Margie Gelbwasser Christine Johnson E M Kokie Elisa Nader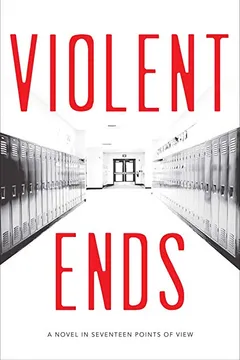 In a one-of-a-kind collaboration, seventeen of the most recognizable YA writers including Shaun David Hutchinson, Neal and Brendan Shusterman, and Beth Revis come together to share the viewpoints of a group of students affected by a school shooting. It took only twenty-two minutes for Kirby Matheson to exit his car, march onto the school grounds, enter the gymnasium, and open fire, killing six and injuring five others. But this isn t a story about the shooting itself. This isn t about recounting that one unforgettable day. This is about one boy who had friends, enjoyed reading, playing saxophone in the band, and had never been in trouble before became a monster capable of entering his school with a loaded gun and firing bullets at his classmates. Each chapter is told from a different victim s viewpoint, giving insight into who Kirby was and who he d become. Some are sweet, some are dark; some are seemingly unrelated, about fights or first kisses or late-night parties. This is a book told from multiple perspectives with one character and one event drawing them all together by some of YA s most recognizable names."
---
---
Detalhes do livro
Veja abaixo alguns detalhes e características deste livro. Aproveite para indicar ou não indicar a obra, ajudando assim toda a comunidade leitora.
| | |
| --- | --- |
| Idioma | Inglês |
| Editora | Simon Pulse |
| Lançamento | Mon Sep 19 2016 20:00:00 GMT-0400 (EDT) |
| ISBN-10 | 1481437461 |
| ISBN-13 | 9781481437462 |
| Formato | Capa comum |
| Páginas | 352 |
---
5
leitores acessaram a página de compra deste livro nos últimos dias.
Você também pode ser um deles, clicando no botão abaixo:
---
Resumo do Livro Violent Ends em PDF
Quer salvar o resumo deste livro em PDF? Simples, clique no botão abaixo e salve o arquivo em seu computador. Lembrando que você pode distribuir este arquivo livremente sempre que quiser.

Salvar
---
Assista as vídeo resenhas do nosso canal
Toda semana postamos novas vídeo-resenhas sobre livros interessantes. Clique nas imagens abaixo e conheça nosso trabalho. Aproveite para se inscrever em nosso canal!